Mobile App for Tracking Usage of Stockroom and Truck Inventory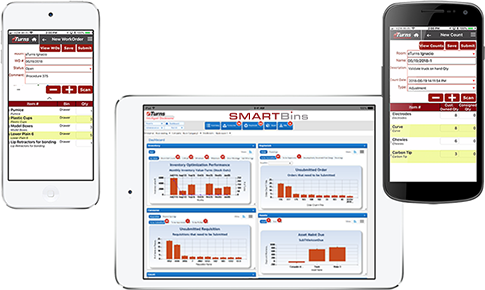 SMARTBins Manage automates inventory replenishment at the point-of-use with barcodes. SMARTBins Manage includes all the benefits of SMARTBins Replenish, our mobile ordering app, plus the ability to track consumption, manage consignment inventory, and set min/max levels.

Track consumption and set minimum/maximum levels that trigger replenishment
Scan items as they are used. The SMARTBins App records the usage, continually compares the quantity on hand with the minimum, and triggers an automated order up to the maximum when minimum levels are breached.

Manage inventory on service trucks
Create work orders, snap a photo of the beginning and end of the work, and get a signature. Manage parts from any supplier with our supplier-independent app.

Track consigned or customer-owned inventory with ease
SMARTBins Manage works for consigned or customer-owned inventories. Managing consigned inventory is easy with SMARTBins because we capture all usage transactions, allow the distributor to invoice accurately, and provide one set of books for reconciliation for the end-user and distributor.

Get email alerts on 73 customizable reports in the Alerts Dashboard, such as:

Reports to order approvers that include the list of items being ordered that need to be approved.
Approve/reject button included in the email.
Reports about current orders to suppliers
Reports about item usage and inventory turns
Reports on expiring items
Reduce procurement by 90%
SMARTBins sends automated orders when replenishment is triggered, preventing the need to type and fax POs. QuickBooks integration is included.
Manage serial and lot numbers, and expiration dates
Manage serial number inventory. Receive email notifications before lot numbers and expiration dates expire.
This website uses cookies to ensure you get the best user experience. By continuing to use this site, you agree to our Privacy Policy.