HUCK POWERIG (QS-QUICK SHIP)
Huck hydraulic installation tools install a variety of Huck Structural Blind Fasteners and LockBolts. Hydraulic tools require a Powerig and can work up to 600 BAR pressure and install large diameter fasteners from 10mm and above. Due to higher pressure, they are more lightweight than Pneudraulic tools.
See the Huck Full Line Catalog - huck_full_line_catalog.pdf
(QS-QUICK SHIP) = Pre-packaged quantities ready for immediate shipping at special pricing. QS items are sold in Full, half, and quarter case quantities.

*If an item shows "Call for Price", ask for price and availability, as it may have lead time or is a special order item.
Page {pageNumber} of {pagesNumber}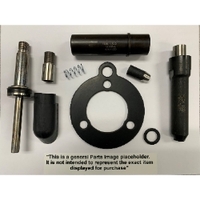 CF-T-124833CE-QS
(QS-QUICK SHIP) Huck Tool Part T-124833CE Pressure Gauge for Powerig Hydraulic Unit
Weight: 6.80000
Page {pageNumber} of {pagesNumber}
Loading
This website uses cookies to ensure you get the best user experience. By continuing to use this site, you agree to our Privacy Policy.